The 30A Life Photography Blog will update and describe the days in the 30A area. 30A is a special place where people can celebrate life. 30A Life Photography wants to capture the 30A area in photos, writing, videos, and sharing other sites that make 30A the exciting and fulfilling place it is today!
1. On the beach in the summer time it can be especially hot, even at sunset. Make sure there are lots hydration bottles of their favorite drinks and water. This is so important to keep hydrated. Dehydration can not only wear the kiddos out, but can make them specially angry which does not produce cute photos.
2. Next, bring their favorite snacks with you also. Sometimes just having comfort can help the session go better for them. Depending on personalities and ages, sitting still, focusing and smiling on cue is not the best experience during the time it is actually happening (excluding the running around and playing in the sand and water time). So having a little comfort food is good. I suggest crackers or cookies. Something that is light in fullness and color so it does not make a mess on their outfit. 
3. Going to the beach...bring sand toys! Sand toys are great for kids to play with while they are not being photographed and sometimes can be included in the photograph if your child seems to be happier with a toy in the photo session. 
4. Do you have a baby or toddler? Bring their favorite large animal. Stand right behind the photographer and play with your child while the photo session is taking place. Warning about this though, try not to be too loud and too distracting for the photographer needs to have room to capture angles that are special for your child. 
5. If you are doing an in-town photo session, bring a wagon. You can carry kids and drinks in it. It makes it super convienent and you have all your special props you need to keep the whole family happy. 
Family Beach Portraits is the foundation of 30A Life Photography. We love photographing and having a good time with families on the beach and in the town of the beach communities of 30A. 
Family Beach Portraits usually consist of an hour + photo session. If the sun is higher, we may start out in town or at your beach house. Then as we get closer to the sunset "gloden hour" then closer we get to the tourquoise waters of 30A and that is where the magic happens! 
Sunset is such a magical time to spend with your family on the beach. We love the emotion and laughter we capture through the lenses that last forever!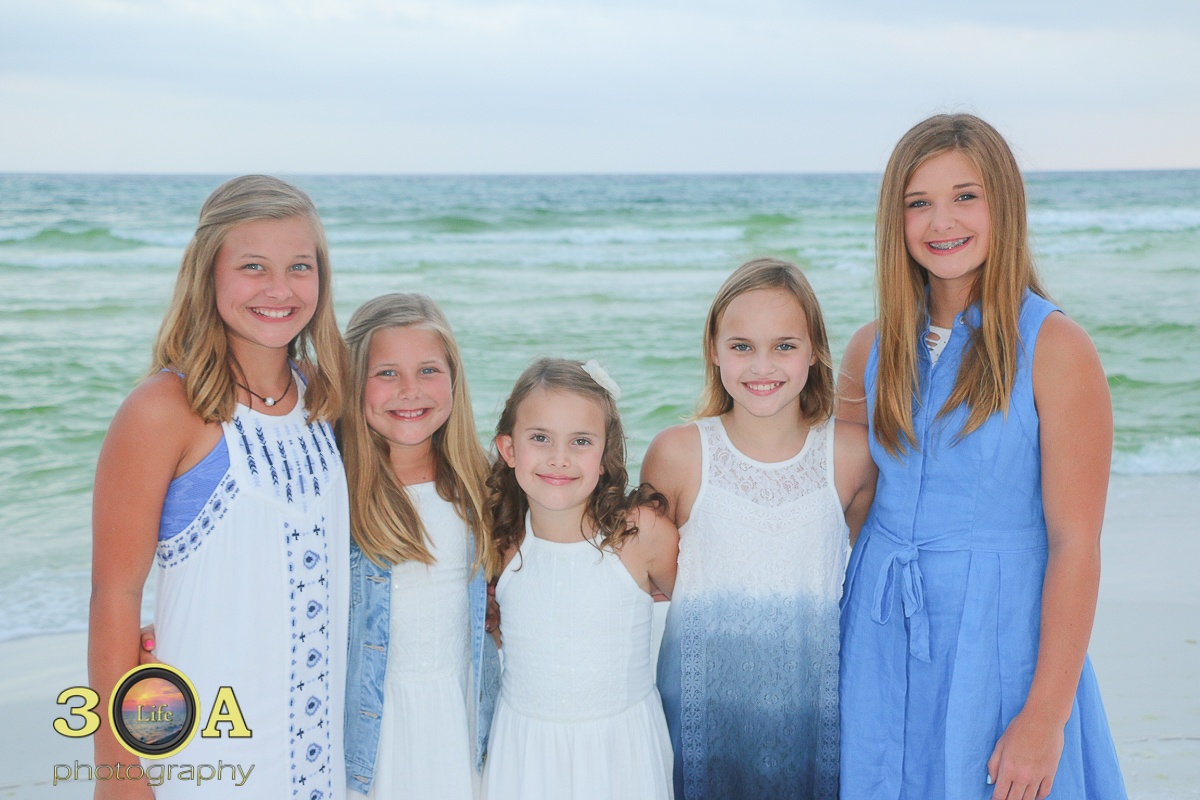 Welcome to 30A!                                                    
What is 30A? I get asked this all the time! 30A is a state highway that runs through the very scenic Northwest Florida. Northwest Florida has a lot to offer than an outsider may imagine. Pristine white and clear-water beaches, lush beach castles, with a flare of world-class style. 30A has a luxurious lifestyle that is family driven. 30A is a gathering mecca for multiple-generations to vacation.
The 4 major communities on 30A are Seaside, WaterColor, Alys Beach, and Rosemary Beach, FL. Each community has their own special vibe. Seaside is a favorite family play spot. Seaside is known for great shopping, 'Air Stream Row' food trucks, and wonderful beach dining. It is a place for the family to bond and enjoy one another.
WaterColor is another family attraction with coastal Florida beach homes, gardens, parks, Western, water-sports activities, and a fun-filled beach club and town center.
Escape to Alys Beach for a Greek Island and European flare. The architect alone is worth the visit to this extraordinary community. Beautiful white structures with gorgeous blue-green water to soak up the sun, Alys Beach is unparalleled to any other development on the Gulf Coast!
Rosemary Beach welcomes families with a European style village. The cobblestone pavers that wraps around the homes, town homes, and parks throughout the community, bring a sense of fantasy revival. Rosemary also has the modern European inspired hotel, The Pearl. This is a boutique luxury hotel that comes with high style and southern grace.
Enjoy your time on 30A. There is so much more to 30A that can be written in one blog! Explore these links and find your beach community to have an extraordinary family experience!